:( I'm sick! I have a headache, my eyes are so sensitive, my body hurts... the works! I thought I was going to enjoy my 3 day weekend! At least I don't have to work like this. I hate being sick and teaching because I feel like I don't have the energy and enthusiasm that my kiddos need!
I'm happy about joining Ms. Preppy's Be My Valentine Exchange!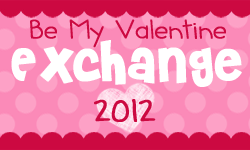 Go on over and join up! :)
So I got my new toy a couple of days ago and I haven't been able to put it down! My first read is The Hunger Games... SOOO GOOD!
This obviously isn't mine. I wanted to take a picture with it and post that but I'm pretty sure I don't want y'all to see me right now! I am looking like a hot mess! Poor husband is going to see me in a bit when he comes from work. I mean, I'm still in my pajamas!!!
Ah! He just walked in! I'm off to bed to read my Kindle!! Good night!